"Hey, hey! Look who made it!"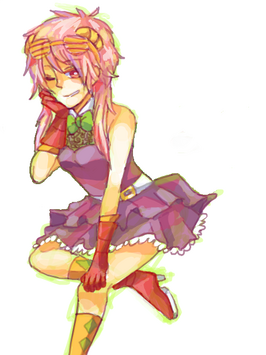 - Experiment Number: Specimen S-???
- Age: ???
- Gender: Female
- Faction: Unknown
- Weapon: Bug Powers, we assume

Appearance:Edit
Chick with pink hair, red eyes, and no fashion sense.
Personality:Edit
Peppy! Possibly troll.
She was born in Facility S, along with her sisters Rin and Iskra. Presumably she broke out with the other Chimera five years ago. The party met her at Facility G, where she was waiting on them. She seemed happy enough to greet them and got them supplies, but didn't say anything about the DIRTY MOLE in their party.
Abilities:Edit
Unknown: But almost certainly bug related.

RelationshipsEdit