"I can't even get through, it's pretty bad."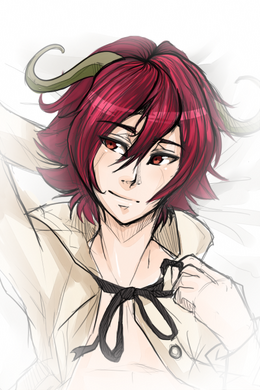 - Experiment Number: Specimen C-???
- Age: ???
- Gender: Male
- Faction: Rex, Probably
- Weapon: Poison!

Appearance:Edit
Has dark red hair with two weird greenish horns and red eyes.
Personality:Edit
He's a lot less chatty than Basir, so mostly unknown.
Unknown, but likely born on the island, experimented on, then broke out five years ago.
The party first met him at Facility R, where he, Basir, and Leto were gaurding. He didn't say much.
Abilities:Edit
Unknown: Likely Poison related.

RelationshipsEdit